It's Friday morning and this week has felt like it has lasted FOREVA! Yesterday I had a moment of panic not being able to remember if it was Wed or Thurs until I remembered that I had just done Wed lectures. You know your life has changed fundamentally when you mark the days with which zoom lectures you've attended. 😅
Earlier this week I wrote a guide  To (now Online) College Students – You need a plan to succeed taken from my experience juggling being a mom to three girls, being a partner, cleaning, cooking, and being a full time student at Stanford University majoring in Computer Science.
Now that I've had my first 5 days of #zoomuniversity let's dive in and talk about the good, the not so good, and the I wish this quarter was over.
The Good
I've kept up with my notes checklist and have tried to be kind to myself. I haven't had a day where I didn't work hard and yet I still feel behind. The things is some days I am super productive but half of that productivity goes to caring for my household and mom duties so I feel like I didn't get enough done school wise. But you know what, I'm effin killing it.
Overall keeping a Google calendar and a checklist is going well. I just found out that Google Calendar has a sidebar with a task list if that's more your jam but the task goes away once you check it off and well, I want persistent proof if what I did! 🙂
Celebrate Your Successes!
The Day 90 comment you see is my 90 days of not drinking. I didn't really take a moment to celebrate that and I should – it's a big accomplishment. I was using alcohol to numb pain from past trauma and at the back of my head I always feared that I would become an alcoholic like both of my parents. So the decision to go dry and to invest that time and energy into therapy and healing has been my biggest 2020 win.
Advocate For Yourself
Shout out to Engineering Professors Who Have Empathy + High Emotional Intelligence
At this point I have emailed all of my professors my education accommodation letter (here known as your OAE letter) and a note on my circumstances. Below is an email I sent:
I was incredibly appreciative that they quickly responded. I won't post their response to respect their privacy but they followed the below:
This is How You Should Respond to Your Student During This Time of Uncertainty
Acknowledge that their situation is challenging
Ask clarifying questions about how you can best help them
Reassure them that you are more than happy to be flexible and do what you can to ensure that they succeed
Follow through
That's it. It's not that hard.
Sadly, not all professors have responded in that manner and it pains me that I have to keep following up. My next step – since I won't give up on advocating for myself – is to reach out to my advisor and office of accessible education coordinator to explicitly ask for extensions for assignments that are assigned and due on weekdays without a weekend in between. Some people won't help you unless you make them. It shouldn't have to be that way but sadly that's the reality for a lot of people in power.
If there was ever a moment to follow the "Squeaky Wheel Gets the Oil" mentality – this is it! We're in a pandemic, I'm about to follow Ms Londynn B's example and bring it like:
*youtube video of Londynn B singing One Day – I don't want no Problems*
The Not So Good
How do I balance being a family caretaker while going to school full time?
A real challenge has been figuring out a balance of caring for my 3yo while attending live Zoom lectures (I have about 7 HOURS of lectures on M/W/F), taking notes, keeping up with dense readings, cooking, showering and looking human, and being there for my teenage daughters. I'm not going to lie – it's been rough.
My 3yo doesn't understand why we can't play and cuddle all day if I am sitting right there in front of the computer. I've tried to make a 2 hour rule where every two hours I spend up to an hour with her doing ballet, phonics, going on walks, and just being there for her. But as you can expect, with all of the lectures, sections, readings, and HW's I feel like I'm running a marathon every single day.
What has kept me going is that SO FAR I am still above water and that I'm down one week – 8 to go. Check in with me next week after all my psets and quizzes are due >_<
I've reminded myself that I am an incredible parent and that I am carrying a much heavier load than most and that all I can do is try my best. Love yourself and your efforts. This isn't a time where you have to thrive – getting by as well as you can is an incredible feat PERIOD.
My Weekends are Meaningless 
In order to "succeed" this quarter, and by succeed I mean pass all my classes and absorb as much as I can, I have to work every day. No weekends. That's a bitter pill to swallow but unfortunately this is a time when I have to make sacrifices. I'm working from 8 AM – midnight with "breaks" in between to do all my mom duties. If I don't do a bulk of work on weekends there is no way that I can get all of my schoolwork done.
Working Out – Ms Mariah Carrey Says It Best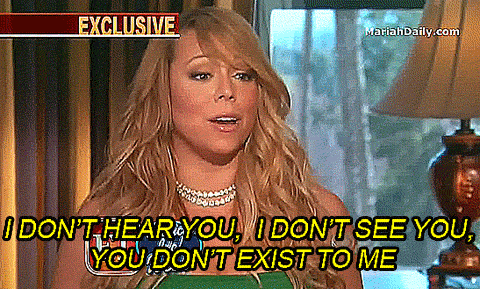 *gif with Mariah Carey shaking her head. Text: I don't hear you, I don't see you, You don't exist to me"
I have nothing else to say on that.
Week 1 And I Wish This Quarter Was Over
I'm not going to lie, I wish we were done with school for the year. It's rough not being around friends, not sitting next to them in lecture and exchanging looks, tips, and smirks as needed. And that's coming from an ambivert closer to introvert side.
Follow Up With Friends – A Text From You Might Be Just What They Need
As humans, we have a tendency to center ourselves and feel like we are the only ones going through it. We isolate ourselves and wallow in our despair.
But this is a GLOBAL Pandemic. We're not alone. Reach out to your loved ones – those that bring you joy.
I've been texting close friends to both check in on them and to maintain the relationships that I cherish. People are setting up all kinds of slacks and zoom meetups but I'll be honest – I don't have the energy to make new friends. Leaning on and being there for existing strong friendships is what serves as a salve when I need a meaningful connection to those outside of my home. Do what helps you!
Focus on What You Can Control
I want to end with reminding you (and me!) that there is only so much under our control. Don't stress the small stuff – assess what you have to do, what you can do, and move forth.
My guiding thoughts these days:
Prioritize schoolwork that is due soon – we want to graduate y'all!
It is okay to give 80% to one class, 75% to another, and 100% energy to the courses that you want to absorb and that will help you professionally. These percentages will change week to week – do what you gotta do!
When I feel like I can't do this – reach out to those that will uplift me
Lead with positive energy and mentality. Getting stuck in the – how am I going to do all of this mentality helps no one. Take it a bit at a time, chip away. One step at a time.
Some days I will not be able to do any of the above. I will be kind to myself on those days, try to get some tiny task done and call that day a win and know that I will feel better tomorrow.
We are all struggling.
This will pass
Find your guiding thoughts, mantras, whatever keeps you going. And remember:
The mere act of living through a pandemic while going to school, caring for others, working, etc. IS A MAJOR ACCOMPLISHMENT and we should all get an A on all of our coursework just by completing the course!
As always with much love and strength,
Susana